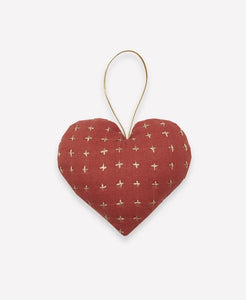 Make your holidays special with this handmade heart ornament.
Made with organic cotton and featuring expert hand-stitching, this one-of-a-kind decoration will bring a smile to all who see it.
Add a little extra love to your holiday tree or gift box!

Measurements - 5"
Fabric - GOTS certified organic cotton. Spot clean only

Made by an artisan in Ajmer India. Fair Trade Verified.
Anchal
Anchal designs blend traditional, handmade craft with contemporary design—revolutionizing handmade textiles for the modern home. They honor the past and slow fashion movement by hand-stitching one-of-a-kind, pieces that reduce fabric waste and are made from eco-friendly low-impact dyes, vintage fabric and GOTS certified organic cotton. They challenge the textile industry's exploitative practices by investing in our artisans and creating a human connection that extends worldwide. Each design explores the relationship between art and storytelling, bridging the gap between consumers and each piece's maker.