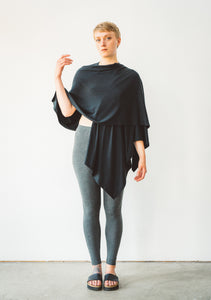 The Thick Leggings are just how they sound, only better.
They are cut from luxurious bamboo french terry, with a high cut intended to sit comfortably at the top of your hips, with a long leg right down to the bottom of the ankle.
They are perfect for colder months, breathable and impossibly comfortable – with an elastic waist tapered slightly to ensure they stay put.
Bamboo/Cotton blend

Made in British-Columbia, Canada
Why does Zinnia Love Leka?
Leka seeks out quality natural fabrics, taking a pro-social and environmental approach to fashion. Their belief is that businesses bear moral and social responsibility to act in the best interests of their community to provide well crafted modern basics for people that are passionate about both fashion and sustainable practices.
All clothing lovingly made in Victoria, BC at their store/ on-site production facility combo!