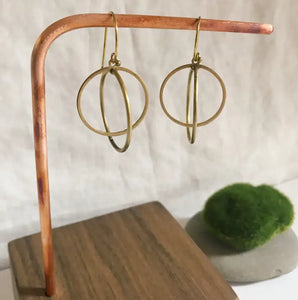 What a beauty these earrings are! 
If you love circles, hoops and movement - these are for you... the moving parts make it extra special!
100% genuine brass.
Measure a little over 1" long.
Why we love Modern Madini
Modern Madini has always been a maker. In their childhood they found creativity in nature and their surroundings which they turned into sculptures and art. Now, they draw from those days, creating Fine Art jewelry with modern moving pieces using predominantly brass and silver that is funky and functional!
Modern Madini is based in Portland, OR. Handmade with love and care.