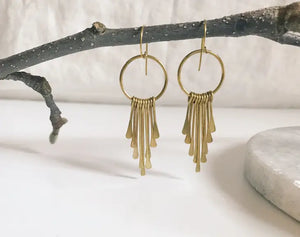 Fun kinetic fringe earrings in brass.
Enhance your look with these delightful brass dangler earrings.

Measures roughly 3 inches from top to bottom.
Why we love Modern Madini
Modern Madini has always been a maker. In their childhood they found creativity in nature and their surroundings which they turned into sculptures and art. Now, they draw from those days, creating Fine Art jewelry with modern moving pieces using predominantly brass and silver that is funky and functional!
Modern Madini is based in Portland, OR. Handmade with love and care.