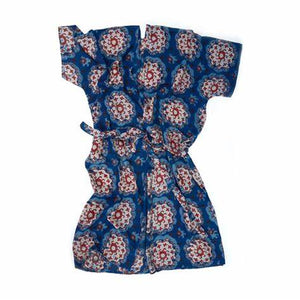 The Robe-Dress is made to be worn in many ways. You can dress it up with a modern belt or wear it to your meetings. You can wear it as a beach cover up or lounge in it in your home. It is made from our lightweight scarf fabric. The unique design is sure to turn a few heads!
PRODUCT DETAILS - block printed using carved wooden blocks - hand dyed in natural dyes - fabric: 25% silk, 75% cotton.
Size: Length: 38" | Width: 24" seam to seam - includes fabric belt.
Care: Be respectful of the fiber and give it a gentle hand wash for the first few washes. After that it can be machine washed on gentle cold cycle. Air Dry.
Why Zinnia loves Ichcha?
Ichcha is a triple sister team, working on bringing ethically and eco-consciously produced whimsical designs to people around the world.
Ichcha all started with a wish to preserve and promote the beautiful handmade textiles that are slowly losing against the world that's passing by very fast! They discovered that handmade crafts and craftsmanship were so undervalued, especially in countries like India where, survival was more important. They have met many artisans and their families and saw that most of them were connected with their art as a tradition passed down from their ancestors that they also wish to pass down to their children.  And thus, came ichcha, or 'a wish', to live and encourage everyone to live consciously; conscious of the environment and of the value and life of the products created and sought.  
Ichcha products are designed in NYC and meticulously handmade in India.