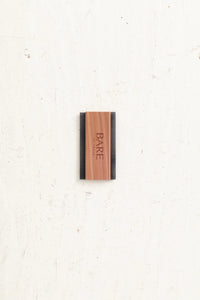 The Cedar Sweater Comb is the perfect solution for preserving the quality of your fine gauge and delicate knits.
The metal mesh screen deftly removes the unsightly pills and fluffs that build up over time. An added bonus is that the cedar is a natural deterrent against moths and insect damage.
Keep your luxurious knitwear looking polished and new for years to come!
HOW TO USE - In short upward strokes gently remove surface pills. For open weave knits, a soft touch to the pill works best to avoid snags. For sturdier, woven garments more pressure can be applied.
Made with FSC certified cedar
Measurements - 4" x 2"
Why does Zinnia love Bare Knitwear?
In 2012 the first Bare Knitwear collection was created from a small studio on the West Coast of Canada. As the brand expanded the search began for honest, small-scale production, sustainable fibers and artisan craftsmanship. This led to the exploration of the rugged landscapes of the Peruvian Andes, known for their high quality fibers and talented artisans. 
After weeks spent working with local producers in remote regions, the production finally found its home in Ayacucho, a tiny Peruvian town tucked in the south central Andes.

Today, each Bare Knitwear garment is still brought to life by hand through a collaborative development process merging the ancient heritage of Peruvian techniques with modern design. The brand continues to work with small producers throughout Peru for the sourcing of their signature alpaca, wool and Pima cotton collections. 
The proudest achievement of all is the personal relationships the brand has forged with their partners who employ and empower local Peruvian artisans. Over time Bare has witnessed the difference quality employment can bring to a community, providing sustainable employment for local artisans and the opportunity for them to have true autonomy over their future.

The wool used by Bare Knitwear has a free of mulesing certification and their suppliers hold the RAS (Responsible Alpaca Standard) and RWS (Responsible Wool Standard) certificate.
Where possible, they choose to work with un-dyed, natural materials. When dyes are used they use low-impact, OEKO-TEX certified dyes that are heavy metal and azo-free, ensuring consumer and environmental safety.